CR 10 Smart 3D Printer Qatar
CR 10 Smart 3D Printer Qatar = > Creality new FDM 3d printer-CR-10 Smart is coming, which will give you an innovative experience of 3d printing.
Eight Key Features
Built-in WIFI function: Remote control printing anytime, anywhere
Low Power Mode: Safe and worry-free save energy and power
Intelligent Auto-leveling: Instant printing after initial auto-levelling
Dual Z Axes+Dual Diagonal Drawbars: Ensure stable and precise printing
4.3-inch Full-view Touch Screen: Intuitive and easy-to-use
Super Car Design: A combination design of aesthetics and technology
Ultra-silent Design: Mute mainboard/Mute fan Low-noise power supply
Modular Structure: 6-steps to assemble 8 minutes to complete
A Bit More Intelligence:
CR-10 Smart 3d printer supports both WIFI & RJ45 wired network connection. With the Creality Cloud APP, you can easily slice 3D models, remote control your printers, and print an object whenever and wherever with your phone.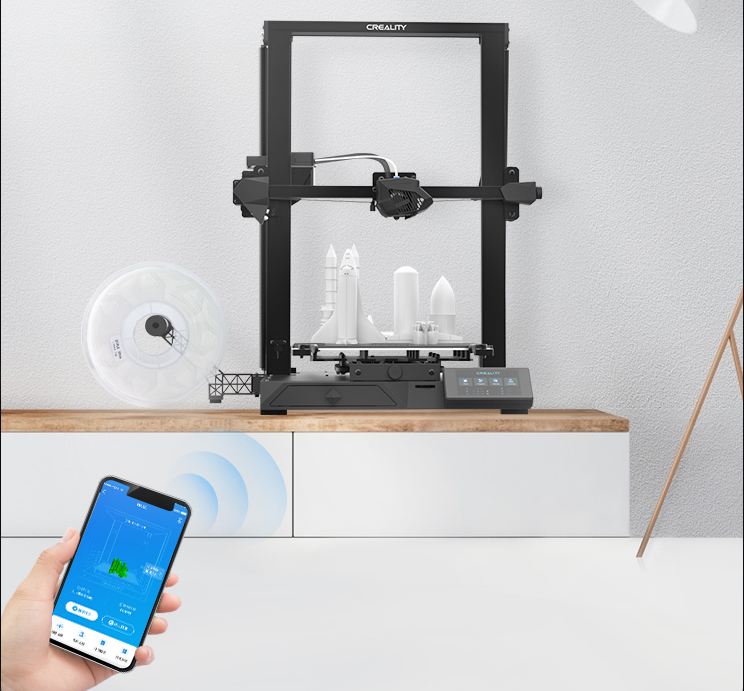 Ultra-silent Design:
Self-developed 32-bit patented mute mainboard, low-noise power supply, and highly efficient cooling fans ensure a silent 3D printing experience.
Intelligent Auto-leveling:
With the V2.0 auto-levelling system, you can enjoy a hassle-free levelling process and instant printing after the initial auto-levelling is completed.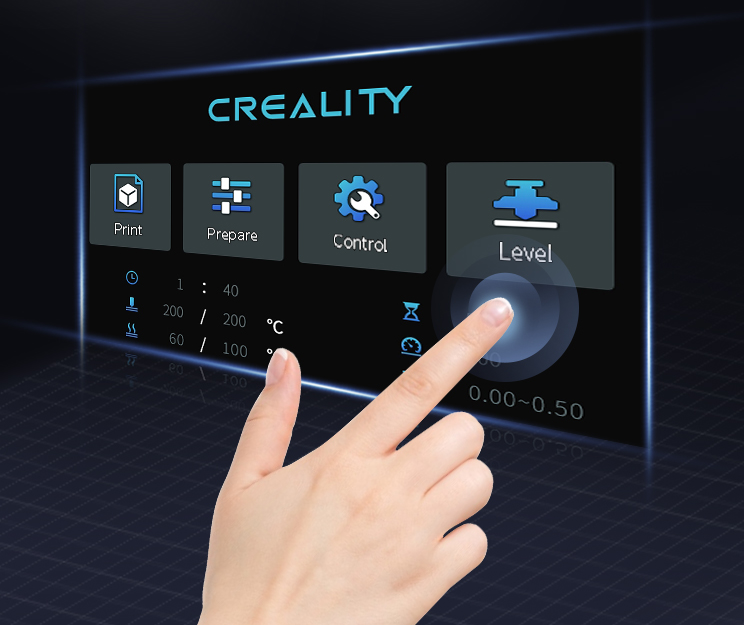 Screen Protection & Auto-shutdown:
The screen will dim if there's no manual operation in 30 mins to save power. And it's environmentally friendly.
CR-10 Smart supports auto feeding and retreating filament which makes the process easier. The machine will auto shut down after the model is completed to save power and effort.
Product Parameters
Print Tech.: FDM
Print Size: 300*300*400mm
Product Size: 578*522*648mm
Package  Size: 660*575*290mm
Product Net Weight: 14KG
Package Gross Weight: 17.3KG
Slicing Software: Creality/Cura
Printing Precision: ±0.1mm
Nozzle Diameter: 0.4mm
Nozzle Qty: 1
Hot Bed Temp: ≤100℃
Nozzle Temp: ≤260℃
Support Languages: 9 Languages
Creality 3D Printer Wholesale & Resell
As one of the expert 3D Printer Manufacturers and Suppliers in China, Creality just sells 3d printer items like Creality CR-10 Smart 3D Printer with high calibre.
It is just conveyed after being profoundly tried and reviewed by Creality IQC(Quality Control Inspector).
Quality Control
Our quality control groups keep our stockroom reliably new while keeping up the biggest in-stock determination of discount 3d printers.
Creality CR-10 Smart 3D Printer has procured such a triumph since it's delivered, as its excellent and worthy cost for novices.
It is a significant item appropriate for business new companies or driving makers.
Creality today offers official 3d printers at discount costs and gives approved affirmation to sell both 3d printers and filament.
We might want to build up a merchant relationship with individuals who might want to affiliate our items or drive makers abroad to offer 3d printing items and adornments at discount costs.
Fill the structure underneath to snatch the occasion to Join Creality and become one of our partners.

contact us or you can find us on Facebook