Description
Short Description:
10A 20A 30A 12V 24V Intelligent PWM Solar Charge Controller is an automatic control device used in the solar power generation system, which controls the multi-channel solar cell array to charge the battery and the battery to power the load of the solar inverter.Solar charge controller is the core control part of the whole photovoltaic power supply system.
Model Name:

 

YJSS
Type:

 

PWM
Voltage:

 

12V/24V Auto Adaption
Current:

 

10A,20A,30A,40A,50A,60A
Application:

 

Charger Controller, Solar Working Station, Lighting Controller, Voltage Controller, Solar System Controller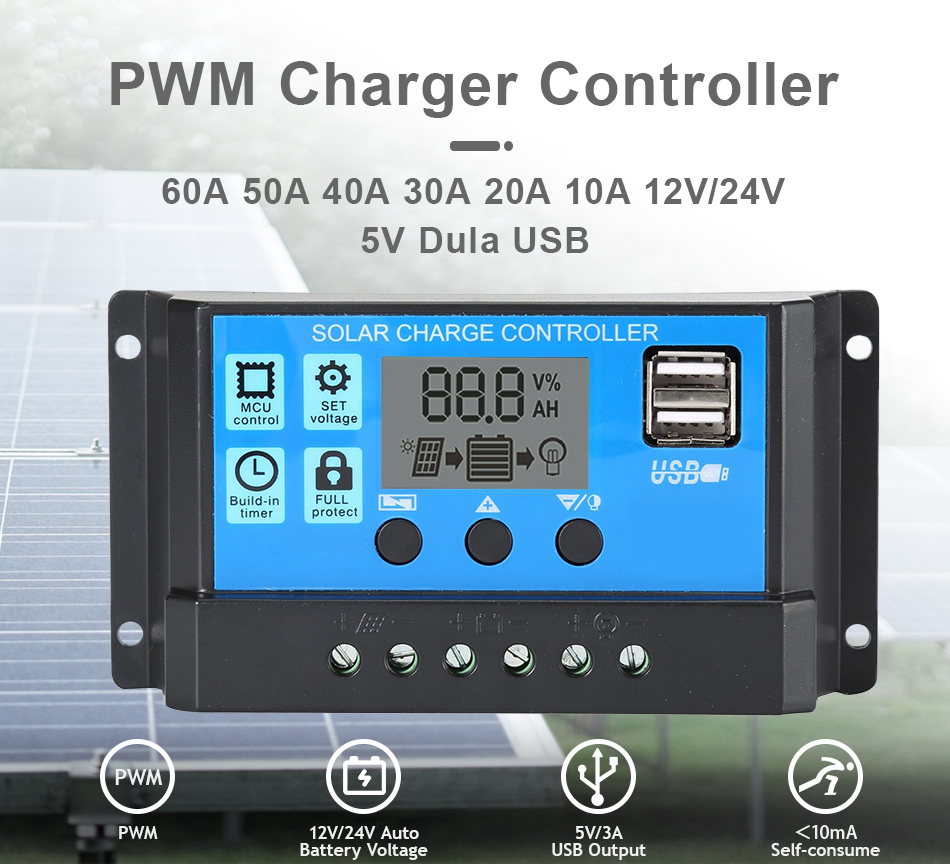 Advantages of 10A 20A 30A 12V 24V PWM Solar Charge Controller
1.Double USB Socket.
2.Aluminum alloy injection port.
3.Plastic shell + iron back plate.
4.12V/24V Auto adapt, small size, easy to operate.
5.LCD, programing parameter.Data memory function.
6.Using PCB industrial grade chip, harsh environment adapt.
7. Build-in industrial micro controller.Data memory function. After setting the parameters, it is shut down. When it is turned on again, it is not necessary to reset the parameters.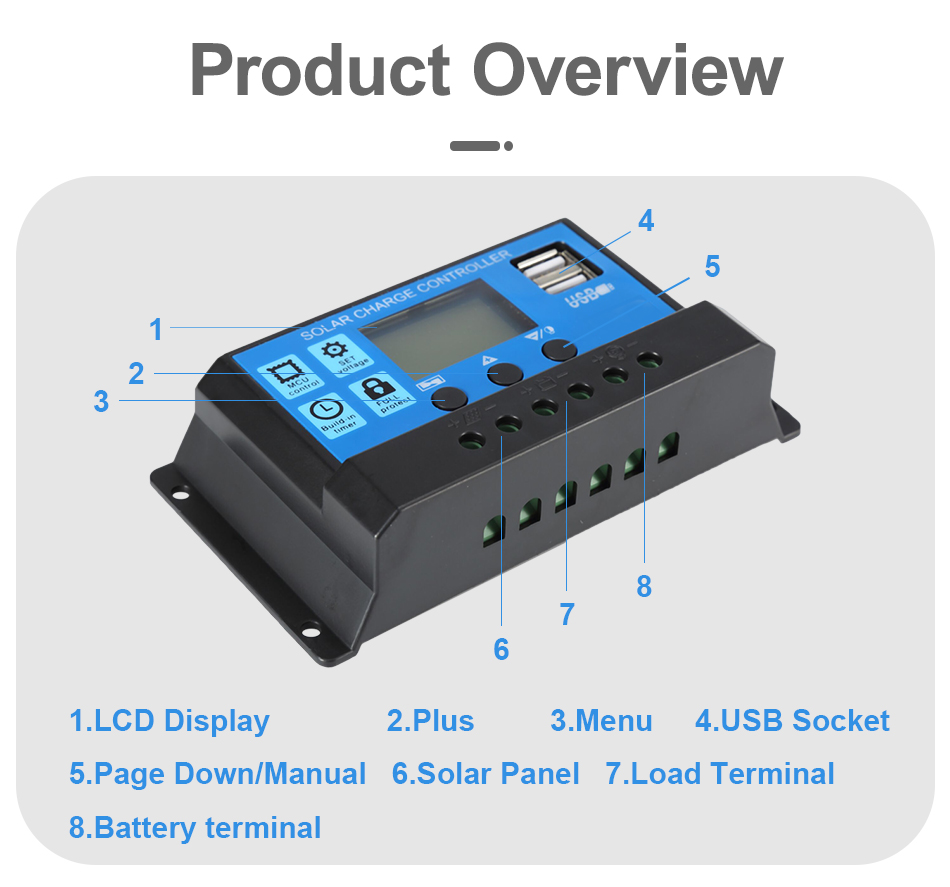 Technical Data of PWM PV Charge Controller
| | |
| --- | --- |
| Model Name | YJSS |
| Voltage | 12V/24V Auto Adaption |
| Current | 10A,20A,30A,40A,50A,60A |
| Max PV Power | 1500W |
| Max PV Voltage | 50V |
| Battery Type | Lead Acid Battery Charger |
| Float Charge | 13.7V(defaul,adjustable) |
| Discharge Stop | 10.7V(defaul,adjustable) |
| Discharge Reconnect | 12.6V(defaul,adjustable) |
| Size | 133*70*35mm |
| USB | 2 USB |
| USB Output | 5V/2A MAX |
| Operating Temperature | -35℃~+60℃ |
| Application | Charger Controller, Solar PV System, Lighting Controll |
| Certificate | ROHS,CE,ISO9001,ISO14001 |